30 August 2008
Our plant finally produced its first zucchini. I can not believe how big it grew! It was not hard to grow at all either. We were glad to see that it produced only one at a time.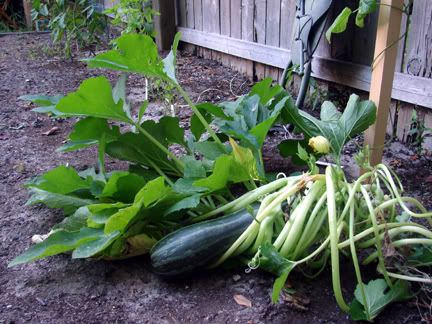 It grew almost a foot long and about ten inches thick! I guess we have some
rich soil
:) I also like the leaves on this plant. They are very thick and rich in color. Because this vegetable is so big I had to figure out how to use it. I love grilled zucchini but you can get bored having that everyday. I also love zucchini bread which is really easy to make and is a crowd pleaser as well. Here is the recipe:
Shopping List:
1 1/3 cup of sugar
2 tsp of baking soda
2 tsp of vanilla
2 eggs
3 cups of grated zucchini (fresher the better)
1 cup of olive oil
1/2 tsp of nutmeg
2 tsp of cinnamon
splash of salt
paprika (optional)
Directions:
Preheat oven to 350 degrees. First mix sugar, vanilla, and eggs. Add the oil and grated zucchini. Next, add the baking soda and salt to the mix. Then add the flour slowly while stirring. Lastly, add the cinnamon and nutmeg to the mix.
This recipe should give you enough for two 5x9 loaf pans. Grease pans with butter or oil before you fill them with the batter. Cook for about an hour and test to see if ready by sticking a fork or toothpick in the thickest part of the bread. It is ready when they come out clean. Sprinkle paprika to garnish if you like :)
marie @ 10:33 | comments(2) | Permanent link