29 May 2008
So it was my husband's turn to pick a movie to see since we saw Baby Mama last week which was hilarious. He chose to see Iron Man and I have to say, it was the best action movie I have seen in a while. I usually think super hero movies are kinda corny but Iron Man definitely got my vote. I was very happy to see Robert Downy Jr. doing so well!
Just in case there are some CableVision subscribers reading, you must sign up for their
optimum rewards
program! We have the voice, cable, and internet package and get to see free movies every Tuesday! You have to check it out!
marie @ 17:18 | comments(1) | Permanent link
26 May 2008
I love Memorial Day! I know it is a day to remember all those who died while fighting for our nation but I can't help but thing of it is a start of to summer too. We had such great weather for this Memorial day weekend. And because everyone usually has off on Monday, it makes the weekend even better because it is easier to relax and not rush to get things done.
There is a catch 22 that comes with the welcome of warm weather. Now we have to pay to go to our park around the corner from us called Cheesequake State Park and we also have to pay to get on all the beaches by us. New Jersey will take as much as they can from the tax payers. I still don't understand why people who live and pay taxes in their own county have to also pay again to go to a park or beach in their own county. I feel county residents should at least get a discount.
marie @ 20:18 | comments(1) | Permanent link
24 May 2008
The best feature on myspace is the karaoke! It is free and the sound quality is actually decent. It is fun when you are bored or feeling musical. Sometimes the lyrics aren't really going in time with the music so you have to make sure you really know the song. I love to sing classic rock, blues, and jazz standards. Here are some songs I have recorded so check it out and try it for yourself. It was fun just to laugh at myself and to work my vocal chords.
marie @ 13:01 | comments(0) | Permanent link
21 May 2008
I realized today that it is almost the end of May and we did not receive our economic stimulus check. I decided to look into why we didn't receive it by doing a search on Google. I found the IRS website and learned that the checks were being sent out according to the last two digits of your social security number. They had a payment schedule based on direct deposit or paper check. Those who set up their tax return with direct deposit could have got payments starting April 28th and those who received their return in the mail could have received payments starting May 9th.
The only information that wasn't provided were for people who were married filing jointly. They are issuing a joint check but they haven't stated under whose social security number the payment will be scheduled for! Now we might have to wait for the end of July! I guess we can think of it as "Christmas in July.."
marie @ 20:15 | comments(0) | Permanent link
19 May 2008
I can't believe the gas prices right now! I remember when gas was $0.99 a gallon when I first started driving and now 12 years later it is $3.69! I'm so glad I don't have to commute far to work. It really puts a damper on things if you want go on a road trip this summer. I received and email today stating that the money we are spending on gas is funding the construction of extravagent attractions in Dubai. 
This was a pic emailed to me of Dubai in 1990:
And here is pic of the same street taken last year:
They have also been busy in the Middle East putting up the world's largest waterfront which includes the world's first underwater hotel called Hydropolis . Off the coast they have built the world's largest man made islands called Palm Islands: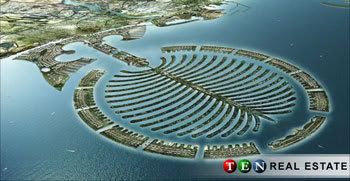 Dubailand is also been constructed which is projected to be twice the size of Disney World covering three billion square feet and to include sports arenas and a 9.8 million square feet outlet mall. They also have finished the world's largest indoor ski arena:
The The United Arab Emirates definitely have the supply and demand idea mastered. The world's tallest building now also resides in Dubai at 1,680ft and rising to be over 800 meters.
We really need to start focusing on alternative ways to fuel our cars.
marie @ 19:21 | comments(9) | Permanent link
18 May 2008
I visited my best friend this weekend because she had her tonsils removed last Friday. I was in shock in how much pain she was still in after a week of the surgery! She was told it would only take three days before she will feel like eating again. She is now on the 6th day and she still can only eat chicken broth! I took her out to try a smoothie and she took one sip and screamed that it burned. I felt to helpless. She can't even take pain medication because she can't eat any food with it. She told me when she tried to take the pain medication she just sat in the bathroom and threw up for hours. Just the simple act of yawning was killing her. So unfair! I did bring my keyboard to her because she has been wanting to learn for awhile, so I guess I helped her feel better a little bit. I hope I never ever have to get my tonsils removed.
marie @ 18:30 | comments(0) | Permanent link
16 May 2008
I have two more weeks left in my digital photography class. We are developing a photo essay which involves telling a story through a series of pictures based on a theme. I picked flowers since it is spring and I absolutely love to do anything outdoors. I have enjoyed visiting different parks, taking pictures of different flowers,  and making compositions out of them. The only thing, is that it is frustrating when we have bad weather all week and I don't have a chance to shoot more pictures.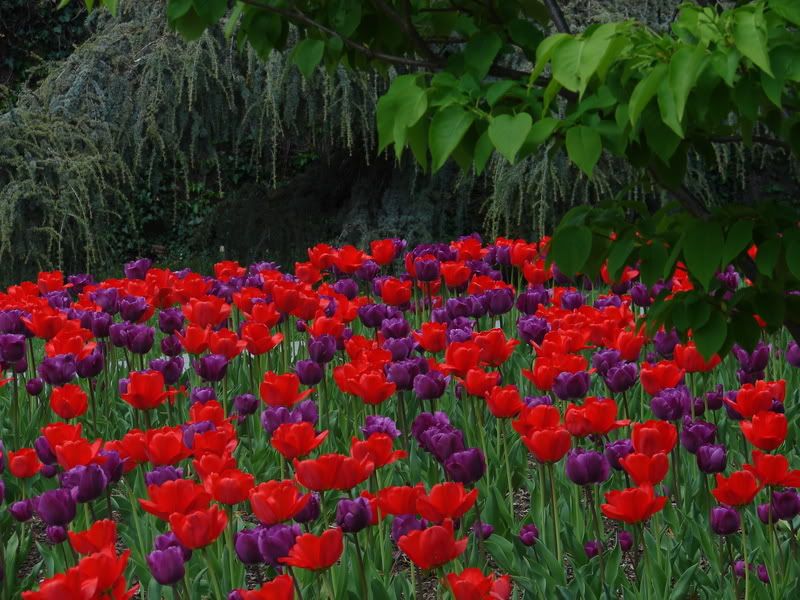 Here is a picture of the tulips that greet you in Deep Cut Park in Holmdel, NJ and yes they really look like that. (My teacher thought I "enhanced" them in Photoshop.)
We also have learned how to enhance and edit our photos in Adobe Photoshop which I love to learn about. It's amazing how you can take a picture and turn it into a total different picture altogther. If it was the morning when you took the shot, you can change the sky to make it look you shot it during sunset. Amazing stuff! I love to do anything creative wether it be music, dance, art, design, or writing. Give me a project and I'll be all over it. I obviously can never be bored because there is always something to create or learn.
Here is a photo from my project which I call "I gave my piano a rose."
marie @ 19:12 | comments(1) | Permanent link
14 May 2008
At work today, I needed to research all about life insurance and what happens if you don't have any. While researching I realized the time has come in my life where I need to be searching for some myself! Now that I'm married, have a mortgage and hope to have kids one day, I need to start looking into some policies so I don't leave any kind of financial burden on my family. Wikipedia had a lot of info to share about life insurance.
You truly never know when you're gonna go, so live for tomorrow and let go of the past.
marie @ 20:38 | comments(1) | Permanent link
13 May 2008
Lake Tobyhanna
I had the pleasure of staying at Lake Tobyhanna in P.A. for the weekend with my husband and some friends to celebrate his 30th birthday. It started out as a pretty rained out occasion and then all of a sudden, the sun came out. We all managed to catch some fish including pickeral, catfish, and some sunnies. Catfish can not get enough of hotdogs! The community around the lake was very peaceful and we even got our own paddleboat, kyak, and rowboat to use. Unfortunately the rowboat only allowed 210lbs, so it did not get good use because no one wanted to row by themselves. I look foward to more warm sunny days to spend outdoors with good friends and family.
marie @ 20:20 | comments(0) | Permanent link
12 May 2008


So spring has arrived and I am excited as a first time homeowner that I have finally started my garden. I want to grow herbs, veggies, and flowers. So far I have bought seeds from Wal-Mart, Home Depot, and Matawan World of Gardening to start growing them in peat pods indoors. All you have to do is place two or three seeds in the peat pod and water them until they expand to about an inch and a half in order for the germination process to begin. Each seed germinates at a different time. The peat pods I purchased came in a plastic dome so it simulates a green house. The best part about it I think is when the seedlings start to sprout you can transfer the peat pods right into the ground.

After seven days the first to sprout was the tomato, squash, wallflower, and basil plants. So far so good.


marie @ 17:11 | comments(0) | Permanent link


Maintained By DiscountClick Marketing Services.