10 July 2008
I had the opportunity to see some hummingbirds when we went camping in Roscoe, NY. My husband was luckily enough to capture one on camera while it was feeding!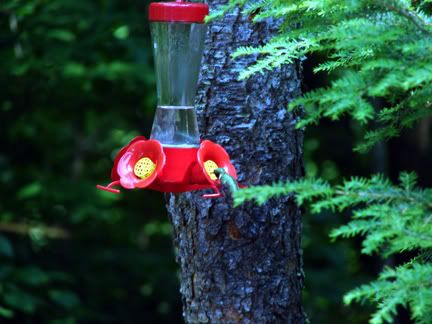 We found out that hummingbirds are attracted to red. Nearly every campsite had the same red hummingbird feeder. They have long bills to get deep inside of flowers to feed on the sweet nectar. They come to the hummingbird feeders because they are filled with sugar water! According to
Wikipedia
, hummingbirds only feed on the flowers that contain around twenty five percent sugar. They reject the rest. No wonder why they flap their wings so fast! The smallest hummingbird can flap their wings seventy times per second. By creating a garden with flowers that contain a lot of nectar, you can attract humming birds naturally. Some flowers they are attracted to are honeysuckles, a torch lily, and scarlet bee balms. I plan to plant some flowers to attract hummingbirds next spring.
marie @ 21:45 | comments(2) | Permanent link